I haven't finished a miniature since May 20, 2021, when I wrapped up Stikkit and Skraggit for my Deathskulls army. Almost a year![1]
I've done "miniature stuff" since then, including assembling, priming, base-coating, and basing a 2,000-point Adeptus Custodes army, and made it about 80% of the way through my first squad. But pootling about isn't the same as finishing models.
A big part of that comes down to losing a major motivator: In the two years since I started painting 40k minis, I still haven't actually played the game. I could be playing it, pandemic notwithstanding, but I'd be simultaneously trying to learn the game, play the game, and make friends, all while wearing a mask for 2-3 hours. Maybe that's what I should be doing, but my gut says I want my first 40k game in 20+ years to be played unmasked, which means waiting until I feel comfortable doing that.
So I'm trying something else.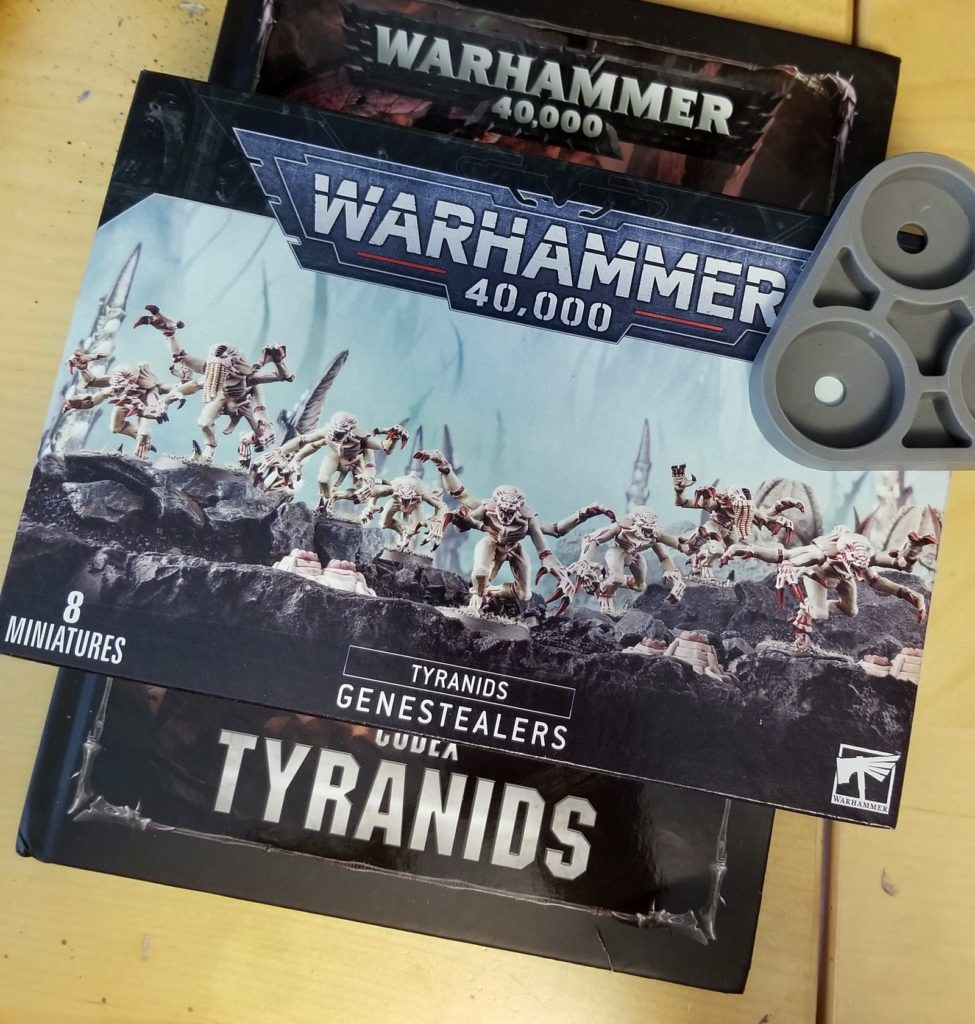 I've got a few days off, and I'm going to ease back into things by working on a Tyranid Kill Team: 5 Genestealers and 3 Warriors (the latter of which hasn't arrived yet).
Me being me, I picked Tyranids half on a whim and half because I've loved Genestealers for 30+ years; I have a tentative paint and basing scheme in mind; and I've spent a few hours finding a Hive Fleet name that feels right — one that sounds like it came straight from, say, an Eisenhorn novel: Hive Fleet Balaur.
The typical canon Hive Fleet is named after a mythological beast, a practice I love, and a balaur — pronounced like the "ba" in "bad" plus the word "our" with an L in front of it, "ba-lowr" — is a multi-headed dragon from Romanian folklore. They're also associated with weather, and both metaphors, the multi-headed serpent and a force as inevitable as weather, feel particularly apt for Tyranids.
And, to the best of my searching abilities, it's almost unique. I can find just one reference to someone else working on a Hive Fleet Balaur, from an abandoned forum thread in 2011. Given the relative paucity of names of mythological creatures which feel right to me for a Hive Fleet and which haven't already been used in canon or widely used online, this is probably as close as I'm going to get to a unique name.[2]
The mists of time
Funnily enough, the first game of 40k I ever played, back in the early 1990s, pitted my Squats against my then-girlfriend's (now ex-wife's) Tyranids. For a myriad of reasons, my poor Squats didn't stand a chance.
So while I wait for Squats to return — and they are, as the just-announced Leagues of Votann! — it seems fitting to come full circle and give Tyranids a whirl.[3]
Like every other GW faction I've explored, Tyranids are more interesting than they seemed at first glance. The longer I look at these ravenous space-bugs, as pure as the Xenomorph from Alien, the more I like them. They'll also be a pleasant counterpoint to what I've painted so far — humanoids in armor, humanoids in fancier armor, and green humanoids with lots of teef. Maybe I'll bring drybrushing back into the foreground, or take another run at glazing (for their claws and bony swords and whatnot), or trying feathering or stippling my carapaces.
Kill Team
But for now, at least, they're just two things: a fun, simple way to try and jumpstart my miniature-painting engine again, and my first foray into Kill Team. I'd originally planned to use my boards, terrain, and a subset of my 40k armies for Kill Team, but the new edition of KT makes me want to branch out and explore small forces I haven't painted for 40k.[4]
Eight rad minis (with 32 arms between them!) is a quantity I could paint in 2-4 weeks if I set my mind to it. I'm tucking into my Genestealers tonight, so that makes April 8 my official start date for Hive Fleet Balaur. Time to get snipping!
[1] I knew this would happen eventually, which is why I write down all my half-baked ideas, half-assed plans, and color guides.
[2] Which, of course, doesn't matter at all — except that it makes me happy to feel like I'm carving out my little corner of the 40k universe.
[3] I suspect I will be all in for the Leagues of Votann. I've wanted to paint a Squat army for years, and if they'd been an active faction when I started up again I likely would have gone with them. I've told my wallet to start practicing weeping uncontrollably now so that it will be ready for preorder day.
[4] Like 8th Edition, which I bought into when I started painting, I picked up the previous edition of Kill Team as well. Both games changed editions before I got a chance to play them — in the case of 40k, that change also prompted some midstream rejiggering of at least one army. But as pandemic-related complaints go? That one is beyond minor.
Digging Yore? Check out my book!The Unlucky Isles
[
affiliate link
], the first system-neutral guidebook for my Godsbarrow fantasy campaign setting, is available in print and PDF.