Metal Gods of Ur-Hadad (also available on DriveThruRPG; paid link) is a joint production by Wayne Snyder, Edgar Johnson, and Adam Muszkiewicz. Metal Gods is the "DCC is like the best heavy metal album covers" of zines. It's rarr and gonzo and awesome and rawlished, and I love it. I wish there were more than three issues!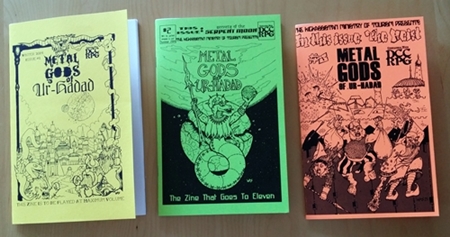 I like all three issues, but the highlight in each of them is an adventure (SPOILERS):
Issue 1: Street Kids of Ur-Hadad – This is a street urchin funnel, the only urban funnel I'm aware of. The city and rival gangs are both procedurally generated by rolling every die in the DCC chain, all at once — d3 through d30. And if you ever have 6-6-6 across your rolls, there's a whole other table of weird shit to mix in. This looks like it'd be fun to roll up, run, and play, and boy does "you're a street kid" drive home the funnel-ness of a funnel.
Issue 2: Secrets of the Serpent Moon – This adventure starts with the PCs waking up in a moon base, as mutants. You can have two heads, wings, a conjoined twin; it's good stuff. There are splendid tables for hazards, experiments, transportation, and other aspects of the moon base, all full of inspiring ideas and winks at sci-fi tropes. Recommended for "throwaway" PCs, and looks amazing for convention play.
Issue 3: The Heist! – This is a toolkit for creating a heist adventure, including random patrons, marks, heat, and loot. It's built around movie tropes, which makes a lot of sense, and it looks like it'd play out a bit like a movie, too. I'm pretty sure you could make five die rolls, think for five minutes, and run this. It's that solid.
If there was a subscription option, I'd be a subscriber. Metal Gods of Ur-Hadad is fantastic, and I highly recommend it.
Digging Yore? Check out my book!The Unlucky Isles
[
affiliate link
], the first system-neutral guidebook for my Godsbarrow fantasy campaign setting, is available in print and PDF.