Even though I built Moonkrumpa on November 16, I held off priming him because I couldn't shake the feeling that he needed a bit more…something. That proved prescient, as I kitbashed him to good effect in December — but he still didn't feel 100% done.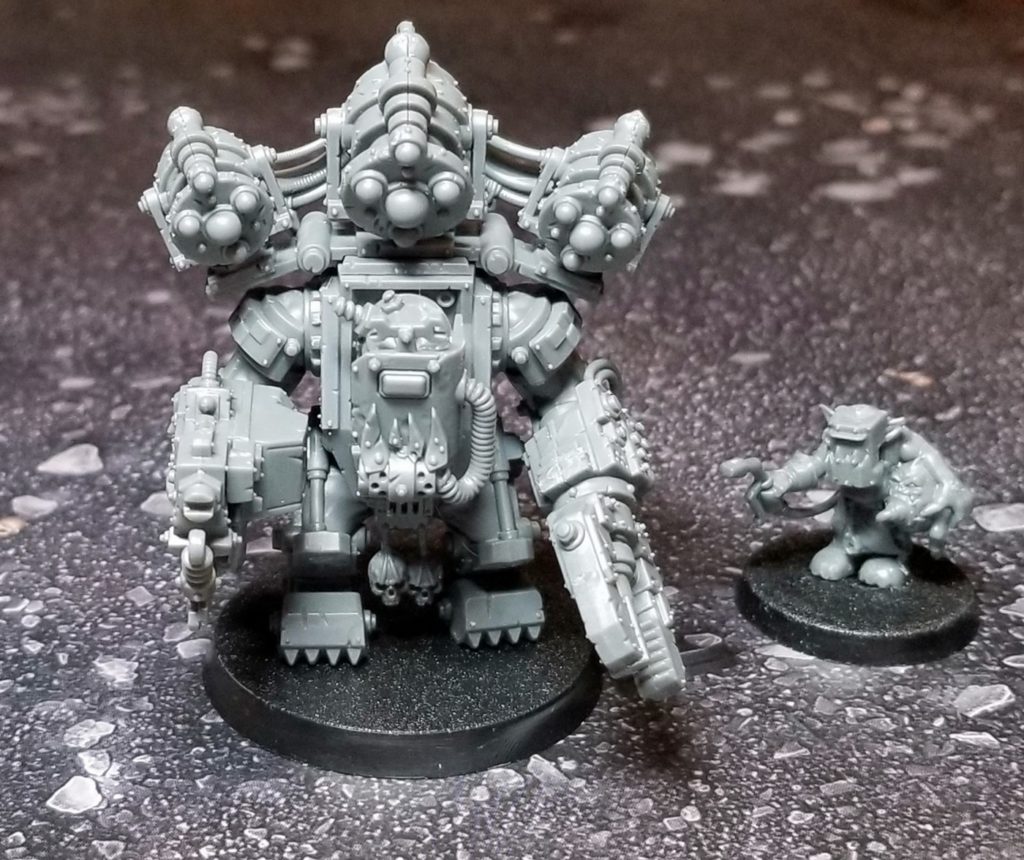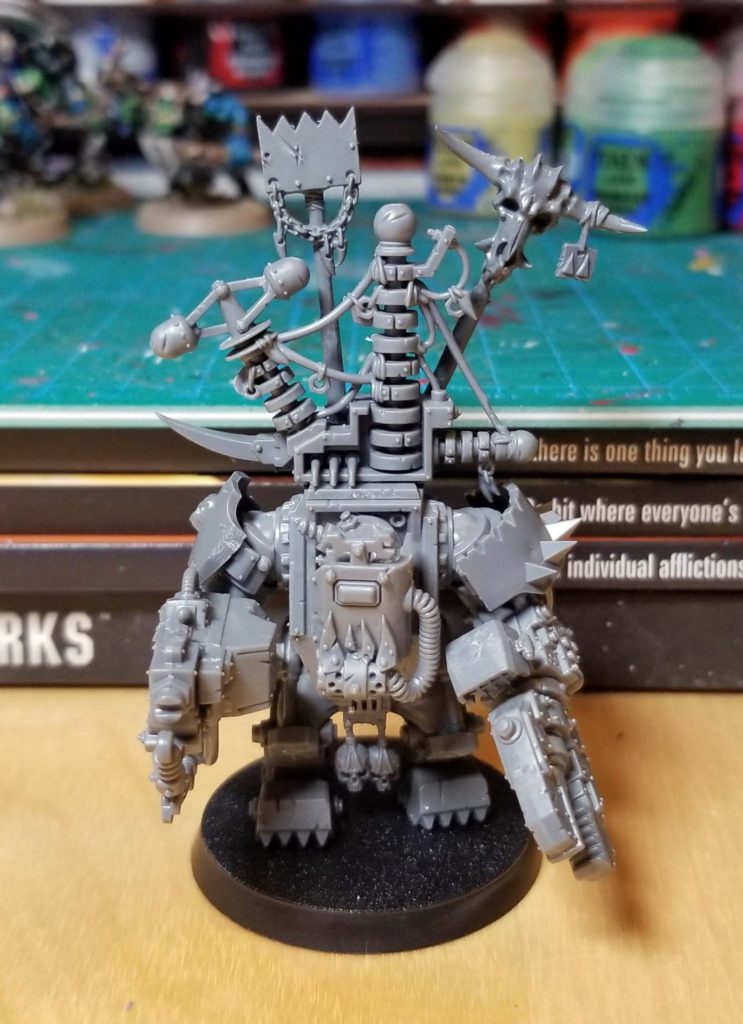 Last week, I read a comment somewhere (Reddit, I think) to the effect that you should be able to easily spot your Warlord/Warboss because they're the largest infantry model in your army. Despite 2.0's added bulk and height, Moonkrumpa's static, lumbering pose and masked face don't make him stand out — and even bulked up, he's not that much larger than a regular Meganob (which I also have in my current army list).
So I did a bit of surgery. I bent and snipped his base until I could force a razor blade under his feet, cut him off the remnants of the old base, and built a fresh base with some height and some scenery. This time, I'm calling him done!
Da Deff Dread
I also built my first Deff Dread over the weekend. What a great kit!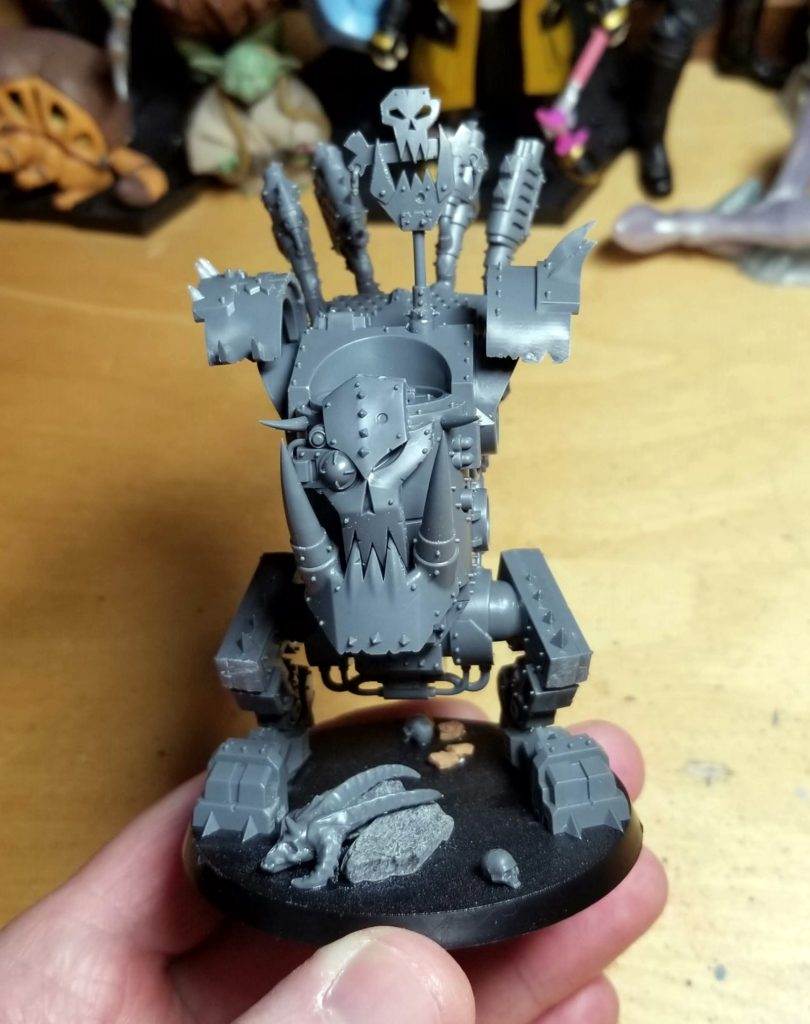 While working on my Killa Kan, I watched a YouTube video in which the hobbyist drilled their own bullet holes to add a battle-worn look. It seemed simple enough, and I loved the look of the bullet holes in the Kan, so I gave it a shot. It is indeed dead simple.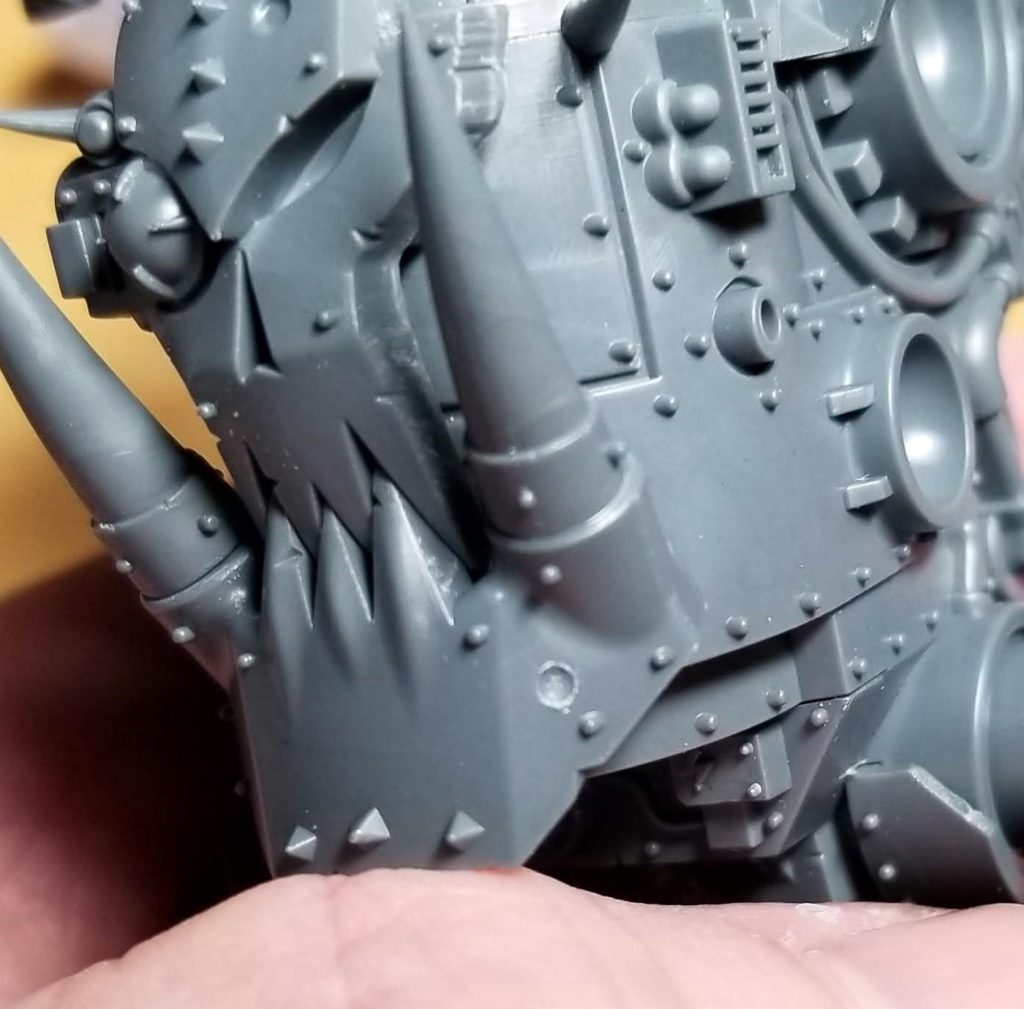 After waffling about it, I decided to take the plunge and magnetize the Dread's lower arms. The first pairing went swimmingly, with 3mm x 1mm magnets, super glue, and a couple of quick shots with my cheapo hand drill.
After that, though, I messed up just about everything it was possible to mess up. I glued my fingers together (I hate working with super glue…). I glued magnets in backwards even after testing multiple times, because the little fuckers are so small that they flip around on you if you're not careful. I also glued magnets to my fingers and to one of my assembly tools. I shot bits of plastic into the holes in the Dread's body while drilling, so now he rattles.
All of that I chalk up to teething. This is still new, it's all good; I'll improve. The only real problem I ran into was weight. After messing up the first arm I tried to use, a smaller one, I switched to this larger one. But the magnets weren't strong enough to support it, so it drooped.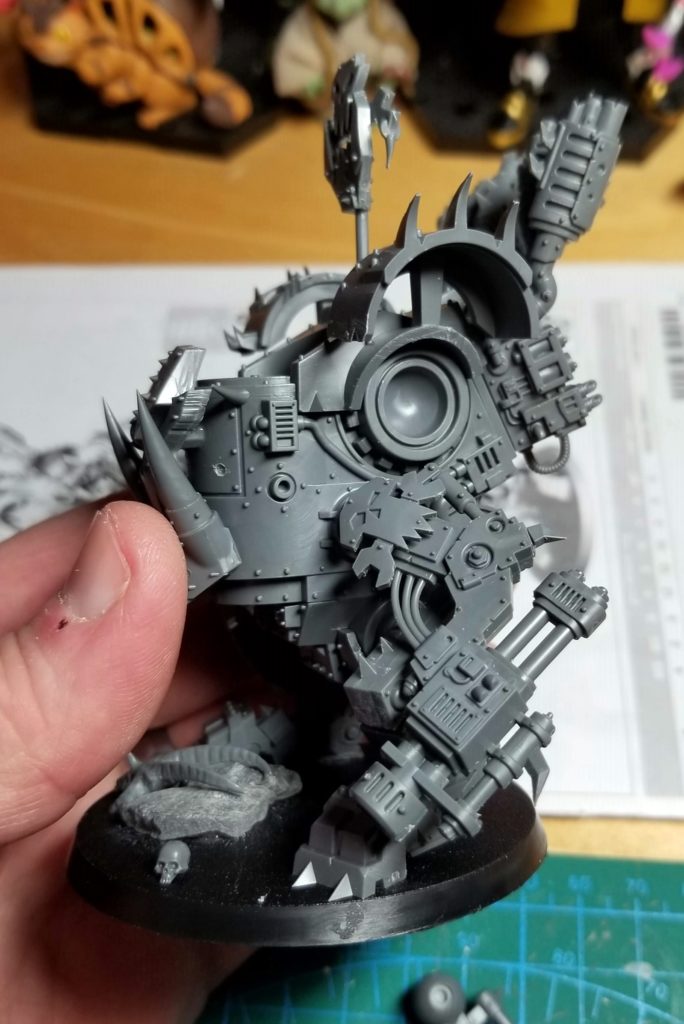 Later on in the process, I realized that I could have glued a stack of 2-3 magnets together, carefully inserted them into the body hole, and possibly gotten some extra oomph out of them. But at that point it was too late.
Magnetizing 1/4 of the possible slots felt like a waste of time, though; I wanted to be able to switch freely from 3 melee/1 ranged to 2 melee/2 ranged. So I chopped away at the small arm and made a flat spot that held a magnet at the right angle, and on my third try I got it right. A firm shake will make it swing down, but I can move the model around and it stays in place. Sold!
Given his two saws and jumbo claw, I'm naming this dude "Facepeela" Snarg,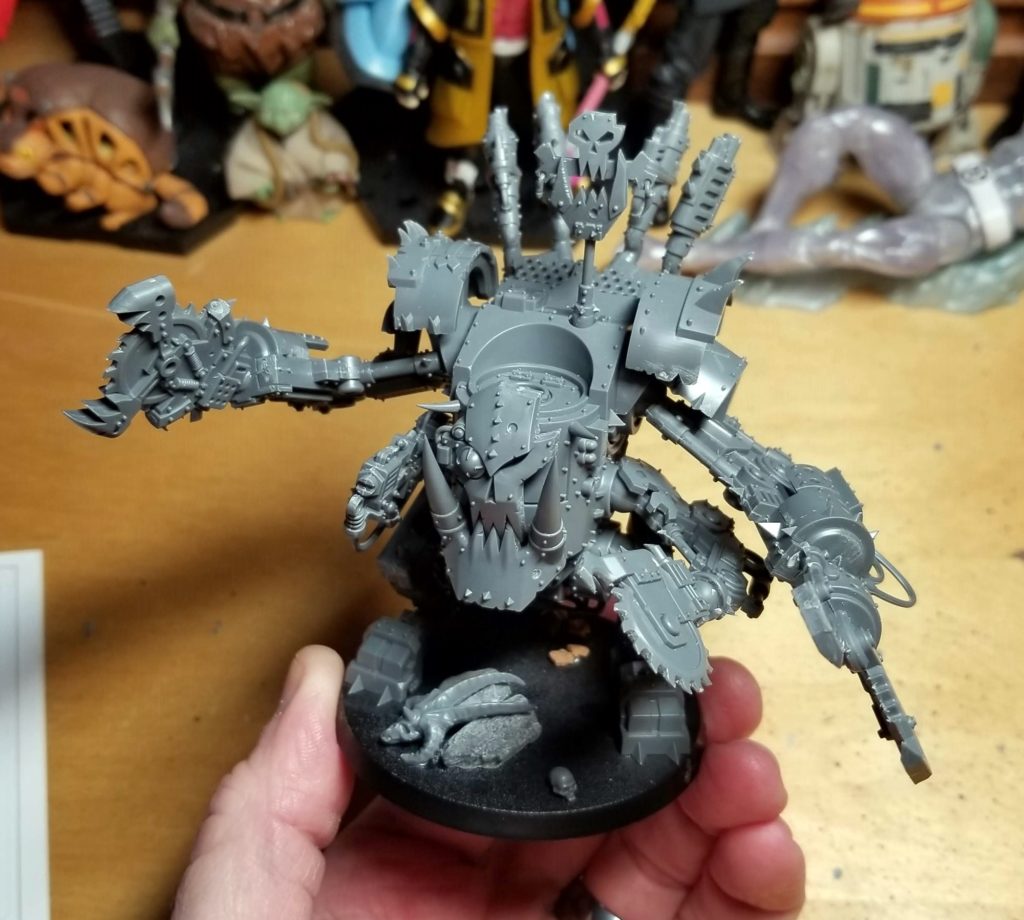 I might hold off on painting all of the other arm options (2x Big Shoota, 1x KMB, 2x Rokkit Launcha, 1x Scorcha) until I've built the second Dread in my list. I don't know 1) how much swapping I'll actually want to do, or 2) whether the extra options that second Dread — whose lower arms I'll also be magnetizing — puts into the mix will really be all I need. Something to sleep on, I suppose.
Anyhoo: rad kit, magnetization is a struggle but also a skill I can work on, and I can't wait to build the next big stompy thing!
Digging Yore? Check out my book!The Unlucky Isles
[
affiliate link
], the first system-neutral guidebook for my Godsbarrow fantasy campaign setting, is available in print and PDF.