Yesterday was a busy day, but I squeezed in enough hobby time to get Squad Ultio fully assembled and partially based.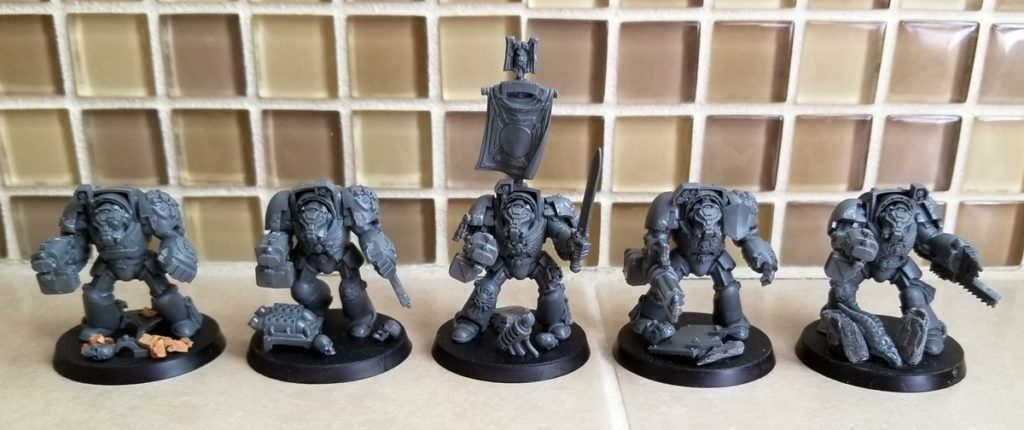 The 40mm bases are a joy to work with because they give me so much room for scenery. It's hard not to go buck-wild and overwhelm the models.
I used a mix of tiny rocks, 1/4″-1/2″ slate (paid link), miscellaneous 40k bits from Ebay, and a bounty of Citadel skulls (paid link) for these guys. Like Squad Karios , I see these Terminators as being really down in the shit, fighting across the graveyard that the plains of Armageddon have become.
But I also want the Terminators to have their own feel; I picture them fighting harder targets, in amongst downed vehicles and debris. So their bases have bigger rocks and more chunks of stuff. They'll get texture paint and tufts, too, of course.
Basing, especially coming up with what to use for each base, and thinking about their themes and role on the battlefield, is one of the most relaxing parts of working on miniatures for me — which I wasn't expecting. I love it.
I also love the little surprises that come from assembling the figures themselves. Like the second Terminator from the left above, who I visualized as striding implacably towards his foe when I was choosing and test-fitting his parts — but who turned out to be in a more dynamic pose once I got him glued together, almost like he's breaking into a run.
Compared to the blinged-out tactical squad I'm painting now, this kit is pretty subdued — but there's a lot of character and dynamism to the models, more than I expected just from looking at the sprues. And I'm thrilled to have my first squad of Termies — my favorite unit in all of 40k — assembled and added to my painting queue.
Digging Yore? Check out my book!The Unlucky Isles
[
affiliate link
], the first system-neutral guidebook for my Godsbarrow fantasy campaign setting, is available in print and PDF.